Customer relationship management (CRM) is a technology for managing all your company's relationships and interactions with current customers and potential customers. With a CRM solution in place you will improve business relationships, and in turn, grow your business. A CRM supports sales management, delivers actionable insights and integrates with 3rd party platforms, helping you to centralise and optimise your team's communication, fast. Cloud-based CRM systems offer complete mobility and access to an ecosystem of accessible applications.
Why have a CRM system?
CRM software is a platform that benefits both sellers and buyers. With a CRM in place your customers benefit from a personalised experience, with their past conversations being captured. With a CRM in place your business gains a set of tools that assist call support teams to build meaningful relationships with customers. The benefits of a CRM stretch across the entire sales and marketing cycle, from identifying prospects and converting them to highly satisfied, loyal, returning customers. Introducing a customer relationship management process into your business allows you to better manage, monitor and optimise interactions with customers, using data analytics and simple data management.
The CRM software market is growing. Various CRM vendors continue to offer more and more new products, at variable price points. If you are looking to increase your team's efficiency or you wish to have better access to your customer data, or simply improve the flow of leads through your sales and marketing campaign pipeline, then a CRM is definitely a tool that can help with accelerating your performance goals. However, if you don't identify your needs, you risk investing in a CRM solution that doesn't match your business's workflows, which could adversely affect your growth plans.
Introducing Zadarma's Teamsale CRM
Teamsale CRM is completely free to access, regardless of the number of employees your company has. Teamsale can assist with automating all traditional customer management processes without any additional costs. The system is fully integrated with Zadarma telephony and PBX services.
Teamsale CRM is helping businesses across all corners of the world from the US and Canada, across Europe and beyond. Teamsale is perfect for small to medium size businesses who wish to keep track of new, growing relationships with existing and potential clients and suppliers. Teamsale is extremely easy to set up and start using, instantly providing a central place to store customer and prospect data, track customer interactions, and share information with colleagues. Customer service teams can access every question, every service request, every preference and every past contact detail on each returning customer, providing relevant communication instantly.
As well as tracking every contact point, be it each internal or external calls, emails or meetings, you can also log notes and schedule tasks and follow up reminders within Teamsale CRM. This allows for the optimum sales cadence to be maintained at all times, with task reminders ensuring that opportunities to close deals or grow customer accounts won't be missed. With a heightened understanding of your customers, you will find that other cross selling activities become easier to win from existing customers.
What are Teamsale's key features
Teamsale has a variety of CRM features, integrating with Zadarma's PBX without the need for additional modules, providing the highest level of call quality and security. Below we discuss some of Teamsale's key features.
Teamsale CRM Dashboard

Zadarma's CRM is simple and easy to use and accessible through a centralised, intuitive dashboard. Through this view you will find widgets with your relevant personalised information regarding current daily, weekly or monthly tasks, sales performance deals and call analytics.

The performance widgets include reporting on the following:

- Customers - total number of clients, number of new clients this week and today

- My leads - number of agent's leads and number of raw leads in the pool

- Completed tasks - number of tasks completed this week relative to the total number of leads

- Overdue tasks - number of tasks of the current user that were not completed by the deadline

- Current tasks - number of current tasks

- My calls - number of incoming and outgoing calls today and this week

- New leads - number of new leads today and this week

Teamsale CRM with email functionality

The system now offers integration between email and the CRM itself which in short is allowing users to now send and receive emails within the central CRM system. You can connect different emailing services to one account and create leads from incoming emails from unknown addresses automatically. The integration with email takes only a few minutes to set up, and the level of encryption in place will guarantee the security of your data. Integrated CRM with email, not only speeds up your communication process but also avoids the risk of human errors.

Teamsale Client database

You can import and export your client data very easily, grouping similar clients together and setting up related tasks. The quick import and export feature removes the need for manual inputs, to aid your customer and sales team's dedicated focus.

Teamsale Calendar

Some CRM's can be cumbersome and too large to navigate. The simplicity of Teamsale is perfect for growing SMEs. All your customer management tasks are displayed in the calendar, which you can view by day, week or month. You can create tasks for yourself as well as for other CRM users. Centralised task management provides greater transparency around daily activity and task delegation, optimising your daily processes and improving team efficiency.

Teamsale Task Management

In addition to the calendar, Teamsale provides a CRM task management feature that allows you to view your allocated call tasks in a filterable kanban or list view. You can retrieve legacy and completed tasks. Task reminders can be sent via email to the agents and managers, providing a centralised way to operate effective task flow management.

Teamsale Call Data

TeamSale as a system is highly usable, in particular you can access call recordings, call tracking or activate a 'call back' through one click. You can pull reports, similar to the list shown below, to understand how many calls have been made, to whom and access the call recordings very quickly.

Teamsale lead Management

You can assign leads to agent CRM users through a couple of clicks. You can also add raw leads manually through importing excel files or creating the lead manually after a call. TeamSale offers an automatic lead creation feature during incoming and outgoing calls, which populates the lead automatically. You can optimise your lead pipeline through qualifying the lead once you have completed your activity. For instance, moving it to 'Complete,' or de-qualifying the lead, assigning it as not a good fit for your business. You can allocate leads against tasks, assigning them to specific team members to take action.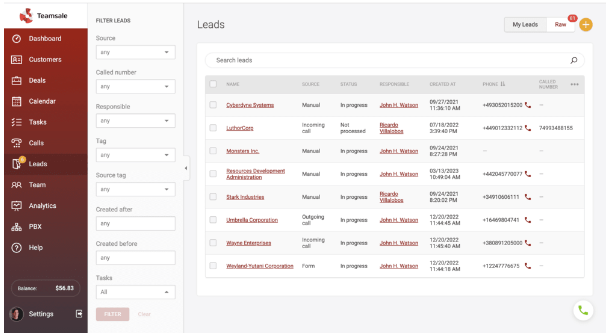 Why choose Teamsale?
The next section of this guide explores the benefits with business use case examples, to further understand the advantages of Zadarma's Teamsale CRM system.
Improves lead management & task workflow management

If your business receives high volumes of enquiries every month and your sales team can't keep up with calls and emails, or is losing track of which leads to prioritise, then Teamsales could be the simplest remedy solution. The Teamsale CRM allows you to manage all leads, allowing you to score each lead and allocate tasks and triggers. Lead scoring criteria can be set up by managers. Basic parameters of the lead such as the job title, industry, and even geographic location can be taken into account when setting up the lead scoring rules. Teamsale allows you to prioritise your lead and task management flows, ensuring the most important leads are not missed whilst saving time for your sales representatives.

Better understanding around your sales cycle and call performance

If your sales or call centre team manager wants to better understand the duration of your sales journey, or may want to have a more clarity of your team's strengths and weaknesses to explore training opportunities, then they will need to have a full context of the end to end sales cycle. Via the cloud Teamsale CRM dashboard you can access an analytical sales cycle report. This will unlock essential insights into call performance and your sales cadence. These reports will show your sales manager the average time it takes a sales representative to close a deal with different clients. Managers can explore the number of calls, touch points, call duration and speech recognition within each calls. This can provide insight into the sales cycle and whether there are training requirements. Monitoring your employees call performance, allows you to track your call handling team's strengths and weaknesses, so you can make adjustments and modifications to improve the way calls are handled. Call metrics will help you identify the exact points in the customer journey where agents (or customers) are struggling the most.

Greater ROI on your marketing and sales outreach campaigns

The Teamsale CRM allows you to gain full knowledge of your sales and marketing efforts. It is vital you understand whether your outbound emails and marketing templates as well as your sales call handling techniques are effective. You need to evaluate whether modifications are required to improve and speed up sales conversion rates. Teamsale CRM has an integrated email function, allowing your marketing team to have access to centralised and informed data insights. You can analyse data across email and phone channels to understand the effectiveness of your email and general marketing campaigns. The analytical reports provide insight into best performing tactics. These activities can therefore be replicated or optimised to improve and better focus communication performance. This will ensure that you can target the channels with the most effective return on your media, sales and marketing efforts.

Improve customer service & customer management

If your customer services teams need to improve their customer satisfaction levels and monitor the effectiveness of their efforts, then Teamsale can help. With a cloud CRM in place you can easily anticipate a customer's needs in real-time with the customer profile automatically populating from the incoming calls and emails. Customer services team can record, make and store notes on each call. Customer care teams can therefore go into call and email conversations with valuable data, insights and background history and understanding of their customers to ensure their conversations are more personable. This customer as a result is more likely to feel more valued and understood. Teamsale helps you keep track of relationships with existing and potential clients and partners, conveniently plan call and email daily tasks and provides views and reports on team performance. This provides a clear review on team accountability and communication effectiveness.

Fully integrated with easy installation and maintenance

If your business does not have an IT or technical mangamer, then you need to be sure not to select a cumbersome CRM system that is confusing to install and technical to maintain. Zadarma's Teamsales CRM offers a turn-key solution, providing users with the ability to send and receive emails within the central CRM system. The integration with email takes only a few minutes to set up, and the level of encryption in place will guarantee the security of your data. You can connect different emailing services to one account and create leads from incoming email from unknown addresses automatically. VoIP with integrated CRM is easy to install even for those who are less technically savvy. There is no need to have expert technicians running phone wiring throughout your office. IP phones are virtually plug-and-play. With one provider for both Cloud PBX & CRM then 24/7 support can be streamlined.

Motivated and productive team

Teamsale offers a sophisticated centralised customer management solution with added features and benefits. Manual, repetitive tasks are not only time consuming but invite the opportunity for human error. Repetitive, administrative tasks can often be absorbed and no longer required when you have a CRM in place, due to the level of automation that CRMs can provide. For instance contacts are automatically created with unknown incoming calls and emails. You can easily add follow-up notes to the customer profile which saves time and can motivate teams. With a VoIP CRM integration, your agents don't have to constantly juggle two different apps. You could easily save hours every month without such distractions. Another great benefit of Teamsale is its mobility. Your agents can access customer data from anywhere, on any device, at any time. They can get data about an incoming call on their mobile phones and answer it on the spot instead of going to their laptop where they usually use the CRM. Furthermore, your team will spend less time when providing client handovers as they can quickly understand the background history around each contact. When a new call comes in, the call handler will immediately know about any previous interactions with the customer if their past communication history has been stored in the CRM, and so they won't have to reach out to another agent to gain more information. It's a safe bet to assume that your employees don't want to perform repetitive, time-consuming tasks constantly. Data entry is one of the most common reasons why sales teams dislike their jobs, as it is tedious and requires manual work that is much easily automated. By integrating CRM with email and phone communications, you will find your team is much happier.

In Conclusion

Zadarma's Teamsale is a cloud CRM. It is flexible, scalable and mobile. You can leverage AI, integrate your PBX, email and social media channels, accessing your system from anywhere, while remote from the office. Because Teamsale runs entirely in the cloud on its own sophisticated, secure infrastructure, there's no need to spend precious time maintaining hardware and software. Teamsale is easy and fast to set up and completely free to access. Teamsale is very straightforward to operate and use. It's easy to log in, view and update customer data, and work with colleagues, at any time, from anywhere. Businesses can use Teamsale to smartly manage and harmonise many key functions of their operation, including sales, marketing, customer service, supplier management, HR, ecommerce and more. To ensure efficient business processes, it is necessary to provide focus and limit distractions for your employees. Integration of your VoIP phone solution with a CRM and email, will allow you to keep all the necessary information about your client at your fingertips. Teamsale offers a convenient, cloud-based CRM system, that's scalable and customisable, so that your business can create their ideal communication solution, quickly and cost effectively.

There is a variety of CRM providers out there. Some systems are more cumbersome and more expensive than others. Zadarma is a well respected global integrated VoIP communication provider and offers Teamsale CRM, a free cloud based CRM solution, free of charge for any user. The system offers integration between your PBX and email and the CRM itself. If you would like to understand more about Teamsale, then please reach out to Zadarma today for more information.